…a short introduction…
After graduating from school in 1998 my obligatory art classes ended. I wasn't exactly sad about this fact because I never liked being told how and when to be creative. Sometimes I was demotivated because the teacher didn't understand my art.
Therefore it took me almost two decades to rediscover my love for art.
I will spare you the details of how and why it happened. Instead, I am going to tell you what happened.
 

…pencil, paper and me… the beginning…
One day not too long ago I found myself sitting at a desk with a pencil in my right hand staring at a blank sheet of paper.
I started scribbling and I liked it. That was the moment I fell in love with art. I continued drawing, and then I tried acrylics, chalk, colored pencils, charcoal crayon and watercolor pencils.
The scribbling turned into paintings.
The most amazing fact was that everything around me faded and became irrelevant. Reality did not matter. My only focus was creating something I loved, something beautiful.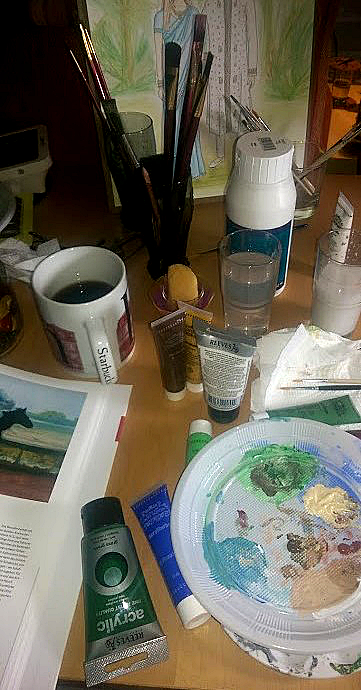 …a vital part of my life…
Creating art became a very important part of my life. I can escape the (sometimes) harsh reality.
I can express my feelings and thoughts by creating something I like. It doesn't matter, what other people say. The most important thing is that I like what I am doing.
My mood provides my with the ideas of the subject and the materials and colors I use.  
Someone told me, that it is important to develop an own style. But in my opinion everyone's style develops itself. There are no boundaries in making art. If there were, this world would be sad and dull.
Art is freedom far from reality.
In the beginning there is an idea. Then the idea is influenced by my thoughts, feelings and fantasy, with an uncertain outcome. I surprise myself every time.
Emotions
I would say, Emotions is the most complex and the most important category in any kind of art. There would be no art without emotions and feelings. Everyone handles emotions differently. Some people go for a run. Others take a walk into the woods to either scream or to hug a tree. Musicians make music, dancers dance and the artist paints. Not too long ago I figured out, that I can express my feelings and thoughts through art. I can escape the world and bury myself in art. I can turn negative thoughts into something beautiful.
Landscapes



Places I went and I would like to go someday are my inspiration for my landscape pictures. Postcards and vacation photos of family and friends as well as the internet give me new ideas. I mix these ideas with my imagination I then combine them with paint and some brushes.
People
I love painting and drawing people. There is a lot to consider if you don't want the portrait to be too abstract. The right proportions are very important. Therefore I like to browse through my anatomy books. It is relatively easy for me to draw fictional people. I am still working on drawing specific persons. It is really hard, to get everything right: Expression, eyes, mouth, shape of the face, hair, ears and much more. The goal is to get everything right. Otherwise, the drawing might resemble the person and might be recognizable but capture the character failed. I still have a lot to learn. I keep on practicing to become better with every drawing. If you are interested in my development, please visit my 'News' Site (⇒ follow this link) to stay informed.
Spooky
Yeah, I like Asian scary movies also known as J-Horror. But is that the reason why I like to draw or paint spooky pictures. There's no telling. All I can say is that it all started with my "monster-trilogy" I can understand, that not everyone finds this genre appealing. I am pretty sure, that even I would not be decorating my bedroom with these paintings. I hope you have lots of fun and maby even chills down your back.
Steampunk



Steampunk is a genre often used in literature and movies. You could call it "retro-futurism" or "historical science-fiction". It is a look into the future in times of the industrial revolution combined with romantic elements. Some elements typical for this genre (also seen in my works) is the gorgeous Victorian fashion, antique looking steam operated but modern machines. Gears, clocks, goggles, top hats and much more. There are no boundaries to your fantasy. On Wikipedia, you will find a more detailed description. Here and now I don't want to bore you with details on this subject. Therefore I wish you lots of fun with my interpretation of the genre Steampunk. Since I like Steampunk as a genre, you can look forward to many more pictures.
Animals
Animals are easy to draw, right? For example everyone knows what an elephant looks like. But would you know how to draw one? Where exactly is the trunk? Where are the tusks and where are the eyes? What is the shape of an elephant's ear? Before I start drawing an animal I look at dozens of images and videos. I study their appearance and character.
Characters
Now and then I love drawing/painting phantasy characters, cartoons, mangas, chibi etc. There are absolutely no rules or bounderies.
Objects
Objects can be still lifes or moving objects. In this category, people are not the focus of the painting or drawing. The object itself is the challenge. My good old friend 'Google' helps me to learn about the specific shapes and the lights and contrasts.
Crafts
Since I started painting and drawing, my perspective of looking at my surroundings has changed. I look at people and objects differently. I notice shadows and colors like I have't before. In any object I see more than just the object itself. I found an old lampshade and to me it wasn't just a lampshade. I saw the opportunity and turned it into a 360° canvas. Most of the time crafting is spontaneous. Any object can be turned into art.